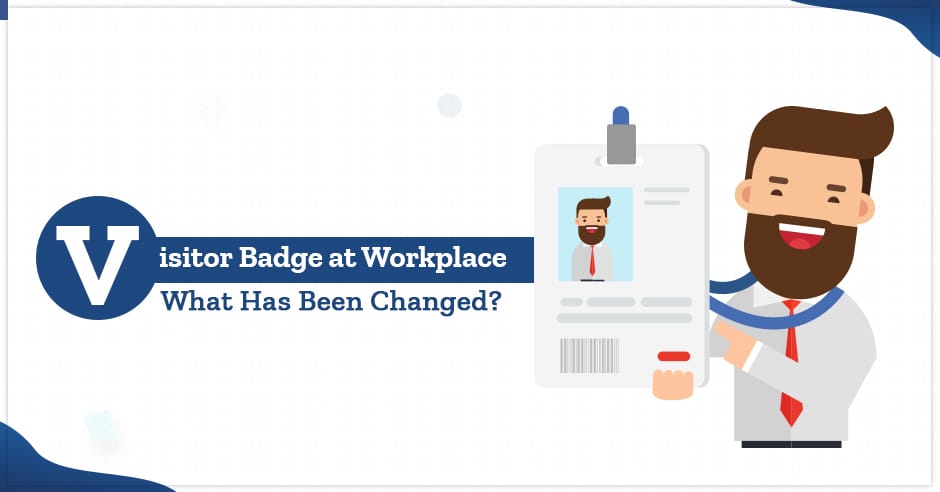 Visitor Badge at Workplace: What Has Been Changed?
Companies use visitor badges in several ways. The visitor badge system has changed from a simple card carrying the bearer's information to secure cloud storage of that data. This is facilitated by a quality visitor management software solution. Let's take a look at how the visitor management process has evolved over time:
Visitor Badge System: The Past
Previously, a basic visitor badge used to be allotted to guests with the tag "Visitor" in bold. Some old-fashioned companies still use this method which can be easily misused or duplicated.
The Latest Changes
The use of a visitor management system has improved the security and authentication processes in forward-looking enterprises. Now, visitors are directed to the reception lobby where they are asked to fill their personal information on an iPad or Android tablet. Then, the app sends an e-badge to the visitor via email or SMS and stores their data securely in the cloud.
This information can be accessed anytime with a simple button tap. Next, the visitor and host are informed by the visitor management system about their meeting and they are assigned a room for the purpose.
Visitor Badge System: Types of Badges Used
1. E-badge
The visitor management software generates an e-badge based on the visitor's verified information and sends it to them via email or SMS. This badge carried authenticated information as the solution sends an OTP to the phone number provided by the visitor to verify it.
2. Self-Expiring Badge
This badge is useful for companies that host a lot of visitors every day as it reduces the chances of misuse. The self-expiring badge utilizes temporary ink which changes or fades after a defined time period. Paper-based visitor management processes are inefficient and need to be replaced with an effective software system as well as self-expiring and e-badges for enterprises to get advanced security.
3. Custom Badges
The visitor management system can also create custom badges that display only essential information while hiding non-important details. Your firm can customize the badges for your needs and also brand them attractively. The custom badge can be created for specific visitor types such as interviewees and meeting attendees, and it can show only the necessary details for each visitor type.
Benefits of an Efficient Visitor Badge System
Does your firm have details about visitors to your office today and last week? Can you verify their details so that you are able to prevent undesirable persons from walking into your premises? Would you be able to keep your employees safe from such people? The need of the hour, therefore, is a secure and effective visitor management process.
1. Ensure Employee Security and Safety
It is essential to prevent potentially dangerous persons from wandering into your office by identifying legitimate visitors. It is the duty of a firm's management to protect their people, data, and assets. Implement a competent visitor badge system in your office by requiring guests to wear easily readable name badges.
2. Professionalism and Etiquette
Another advantage is you can easily learn the names of partners, clients, and other people whom you may have met previously but don't remember their name by glancing at their badge. This will help you to greet them courteously and show professionalism and etiquette towards them. At office gatherings and events, co-workers can learn each other's names quickly which will facilitate effective bonding. Plus, it will assist to avoid embarrassing incidents of name forgetting.
3. Visitor Badge System for Events
You can also use visitor badges for events such as conferences and meetings. The badges can help attendees to network more easily and build a community. They can make it easier for participants to join ongoing conversations. You can also direct your contacts to meet other people as they can easily identify them by their name in legible, large bold type on their visitor badge.
A quality visitor management system can print badges for visitors as part of their registration process. The badge can include the visitor's name, photo, check-in date, time, and other essential details. You can thus bid goodbye to unprofessional sticky hand-written name tags.
About piLOBI
piLOBI is a resourceful visitor management software solution that offers useful features such as guest facial recognition, host notification in real-time, easy and fast visitor check-in, multi-company support, and more. Our system is simple to deploy and affordable too. Contact us today to install our platform to make the visitor management procedure more efficient in your company.