Redefining enterprise security and safety through technology.....
The best solution to optimize your visitor management process
Maximise your front-desk efficiency with smart, secure and versatile visitor sign-in system. Attract your visitors with piLOBI's automated digital reception.
Quick and easy visitor check-in
Effectively manage the arrival of every visitor with automated hassle-free visitor registration. piLOBI advanced visitor management system reduces the workload on office reception staff and saves a lot of  time and money.
Real-time host notifications
Our visitor management software sends instant notifications via e-Mail, and SMS to the host, alerting them about the arrival of the guests. Get a complete picture of real-time visitor within the premises.
Multi-location Management
With piLOBI, visitor management is easier than never before! Streamline the visitor info from multiple locations under one account. Centrally manage all your company's visitor management systems across multiple locations.
Smart and Secure
Enhanced security with capture of visitors facial images and collection of digital signatures. piLOBI visitor management solutions allow efficient management of visitor information ensuring on-premise security at workplaces and events.
Enhance your visitor management system with integrated features from piLOBI.
A Comprehensive Visitor Management Platform
Visitors can quickly sign-in using piLOBI
visitor management software
. Minimises the workload at the reception and leads to more economical operation of the front desk.
piLOBI supports multiple languages and allows the visitor decide his convenient language based on the geographic location for completing the registration process thereby enhancing the visitor experience.
A dedicated Admin dashboard makes it easy for the management to supervise the system. In-depth customised reports with multiple export options offer a clear view of visitors periodic visits on daily, weekly and monthly basis.
piLOBI visitor access management is super flexible to use on multiple platforms (android, ios) and devices and delivers flawless experience. It  is the flexible visitor management system for managing and monitoring visitors.
piLOBI
Visitor Management System
The secure approach to identify, manage and track visitors
Digital Reception
Streamline your visitor management right away with piLOBI's digital reception. Effortless visitor self sign-in accounts for a seamless experience. Eliminates the need for a receptionist, making it the most efficient points in your company.
Meeting Management
Create alerts through piLOBI and manage or keep track of any meetings of employees with the visitors using the efficient meeting management system. 
Employee Attendance
piLOBI's live data and time enables you to have a bird's eye view of your employees attendance and improves the efficiency of the business.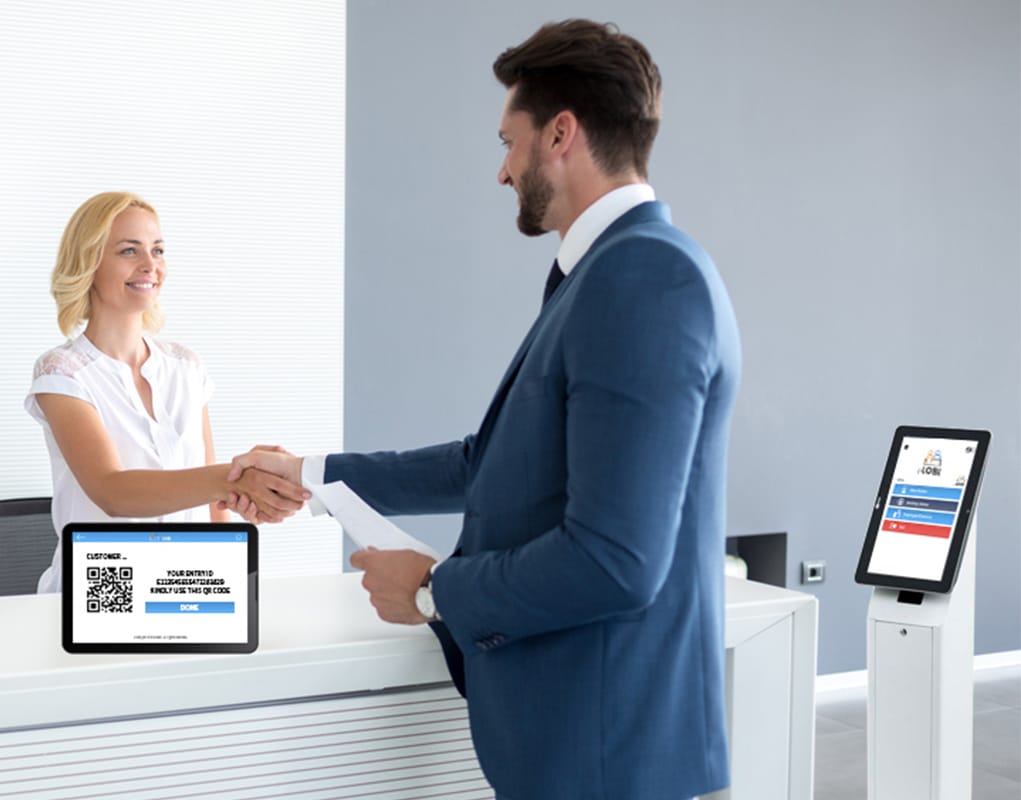 Get started with piLOBI right away
Modern, secure and affordable solution to meet the needs of every day office requirements.
Experience effortless check-in experiences with piLOBI's leading edge visitor management system.
Maximise the front-desk efficiency of MNCs with piLOBI visitor management system.
Streamline the check-in process for the patients and visitors with piLOBI.
piLOBI secures the properties with digital documentation and validated visitor check-ins.

Simple yet powerful visitor check-in system that offers unsurpassable solution for visitor management in Towers.
Which plan
is right for you?
Free onboarding | Flexible plans | Easy rules
Perfect for Startups and Single Location Business
---
Single Location      (WEB/TAB)
Link single TAB
Visitor Face/ID/Signature Capture
QR Code with PhotoID Printing
1000 Visitors
SMS, OTP Notifications to be purchased separately
eMail Notifications
Reports
For small & medium sized companies
---
Multiple Location(s) (WEB/TAB)
Link Multiple TABs
Visitor Face/ID/Signature Capture
QR Code with PhotoID Printing
Unlimited Visitors
SMS, OTP Notifications to be purchased separately
eMail Notifications
Office 365 Integration
Emergency Evacuation
Reports & Analytics
For Multi Location Companies
---
All PREMIUM              Features +
Employee Login
Register (B2B) Public    Profile
Profile Validation by Security Admin
Book Appointment from Company Website
Employee Attendance
Reports & Analytics
Looking to avail Enterprise Plan? Feel free to
---
All PREMIUM+              Features +
Employee Login
Create Visitor Profile
Visitor Validity Check
Online Appointments
Reports & Analytics
Real Time
visitor management system
Greater control to the admin for efficient management of visitor flows
Sign up for free. Feel free to contact us.
Got a question or comment? We're always here to help.
   Would you like to
learn more?