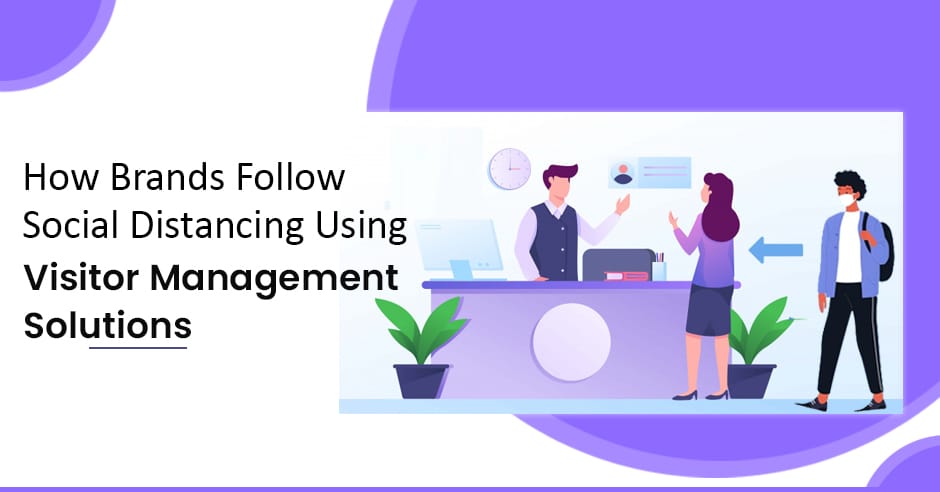 How Brands Follow Social Distancing Using Visitor Management Solutions?
As various brands and businesses are re-opening to the public post-lockdown, the need to ensure complete safety and security for shoppers and employers, are of priority. 
Brands for "non-essential" commodities who faced steep demands during the lockdown now require technological aids in guaranteeing contact-less, effortless, and sanitized shopping experience for all customers. 
While various shopping malls are adapting manual check-ins and prompt sanitizations, well-known brands who promote through malls are looking into technical solutions such as the visitor management software system to integrate a safer shopping experience. 
These safety measures help cut-down on COVID 19 contact tracing and encourage contact-less interactions between the shoppers and the brand store employees. 
As you might know, the visitor management solutions aim primarily for the safety of employees who are risking the pandemic daily to serve their profession. 
What was once a method of tracking unauthorized in-store behavior, now serves as a compact solution for preventing the virus spread. 
How is the Visitor Management Helpful During the Pandemic?
Brand stores can have several visitors apart from customers. The daily deliveries, contractors, maintenance, and cleaning staff are to name a few of those entering a store. 
Here, the visitor management system helps to maintain a record of daily footfall and ensure minimum crowding and maximum safety. 
Additionally, you can also retain the average daily footfall numbers, by providing booking options to customers, and reduce crowding at the store. 
An automated system will encourage individual visitor registration, helping you with contact-less data to manage the store's safety. 
How to Update Implement Social Distancing through the Visitor Management Software
The visitor management software's ultimate aim is to protect everyone from the COVID19 strain by updating daily footfalls. 
A well-automated system will be able to:
Identify and screen visitors at the door while they enter

Update their exit status, keeping in mind the point of exit. 

Updating policy changes to every visitor, making sure they follow new and improved protocols. 

Alerting all employees about new visitors within the premises. 
The automated management system can add in the contactless sanitization, ensuring the safety of employees who take on this manual task.
There are various monitoring systems that the automated visitor management option allows, such as:
Booking Times
The visitor management system can provide daily footfall data that will help you promote online bookings for customers. 
If a customer wishes to visit your store, they can book a slot prior, and come in under their time slot. 

And with real-time host notifications, you can keep track of all arrivals and exits within working hours. 

Not only does this reduce the risk of crowding but also reduces the work-load on the front desk. 

There is also 0-need of paper registration that requires contact and further chances of risks. 
Multi-Location Visitor Management
As a well-known brand, you might own various shops in multiple locations. Therefore, the need to track footfalls and safety protocol compliance for all might become a hassle. 
Fortunately, visitor management software can keep things in control. You can ensure all customers' social distancing at the brand chains while managing the inflow and outflow of customers. 
With the software, you can receive updates from multiple locations regarding visitors' information and status. These records are possible all under one account. 
During the pandemic lockdown, managing multiple stores is possible with the help of visitor management tools. These provide live access to the company's visitor management system for all the branches. 
Facial Recognition
Surveillance systems are a priority to all shops for safety and security. Nowadays, facial recognition and identification serve as a vital tool in ensuring overall safety of customers and employees. 
Digital signatures and facial information can help in pointing out the individuals who break social distancing protocol and can be of risk for those around. 
With a well-automated visitor management system, you will be able to identify such customers and convey an on-premise safety protocol for themselves and everyone else.
This is an efficient system to focus on the hassles a store might face during the pandemic. 
About piLOBI
piLOBI is a well-known and well-automated visitor management software system, helping you secure your business' safety during these challenging times. 
With their integrated and automated security system, piLOBI can ensure the utmost safety through their technology.