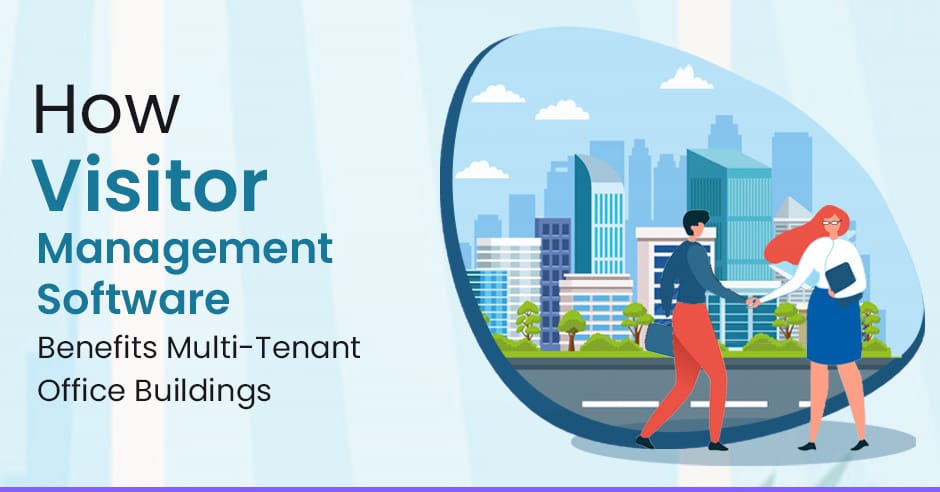 How Visitor Management Software Benefits Multi-Tenant Office Buildings or Residential Towers
We have all seen a multi-tenant office building, whether it's the new 104 floor World Trade Center in New York City or the 5th-floor office you work in.  Many of these buildings house a multitude of different businesses.  This begs the question, how do you manage visitors & contractors that come on-site when you share a space with multiple tenants?  You don't know their clientele or who is coming and going on a regular basis, just as they don't know yours.
Visitor management at a multi-tenant building can be a trying experience for on-site visitors and contractors. When visitors arrive at an office tower building, they can be faced with long queues and waiting times. Multi-tenant buildings require a centrally managed visitor management solution that can be used on-site and incorporates the specific security requirements of each tenant as well as those pertaining to the open public areas.
The benefits of installing a visitor management system in your office building are overwhelming:
For front desk & security teams, having a visitor management system can reduce the administrative burden associated with visitor processing

Landlords can expect an efficient solution that is capable of processing large numbers of visitors, contractors & staff

On-Site Visitors & Contractors can experience a seamless registration and entry process on both arrival & departure from a multi-tenant office building
Here are some more ways in which multi-tenant office building and residential towers can benefit from this:
Efficiency and Ease:
A visitor management system saves time for all stakeholders. A self-serving kiosk allows visitors to fill in their own details. This ensures a faster visitor check in. Filling up a logbook or dictating your details to the receptionist can be tedious and highly error prone. Not all receptionists may be working at their highest efficiency levels at all times. An access management system eliminates human dependency and makes the process smoother and more efficient. Moreover, such a system allows the receptionist to focus on other important tasks, rather than attending to queues of guests.
Digital capturing of information brings in increased efficiency in record keeping vis-à-vis maintaining a logbook.
A visitor management system also allows employees from the respective companies to pre-invite a visitor, share their details and purpose of visit and generate a QR code that is sent to them. The self-serving kiosk then already has all the details mentioned upon scanning the QR code to complete the visitor check in process in under 10 seconds.
Data Management:
The importance of data collation cannot be overstated. Maintaining data in logbooks is highly inefficient and error prone. Much of this data is lost, as visitors often fill in illegible or inaccurate information. Also, the company loses control of the data, which can then be misused.
A visitor management system puts all this data at the fingertips of the admin. The system can generate weekly or monthly reports, which can be consolidated from different locations and audited and analyzed.
Security:
A visitor management system greatly enhances security of the premises. All visitors need to enter their details and the person whom they've come to meet is sent an SMS and email that needs to be approved before the visitor is permitted entry. Moreover, QR codes expire after a specified time. So, if someone spends more than the prescribed time on the premises, the admin is alerted.
Organizing Events:
Let's say one of the companies in your multi-tenant building is recruiting people and expects a large number of candidates to be walking in. Or maybe a company is hosting an event. Managing crowds at such times can become easier with a visitor management software. This is because the system can generate bulk invites to a specified guest list. With every invitee getting a unique QR code, the visitor check in and tracking process becomes smoother.
Brand Image:
For many visitors, a visitor management system may be the first touchpoint with your brand. Being highly customizable, this system allows you to create a strong first impression of your brand. It's easy to add your logo or incorporate your brand's color scheme. You can also customize it according to the specific information to be captured. Doing so takes only a matter of minutes, as the system already includes a plethora of options that can be easily selected with a simple drag and drop. Even screens can be added or deleted very easily.
With options like check-in via entry on electronic devices like tablets or smartphones, a visitor management system positions your brand as being tech-savvy, innovative and modern. It speaks volumes about the importance you give to visitor experience and your commitment to promoting smart, integrated workplaces.
Conclusion
Effectively using visitor management software is the most convenient way to operate multi-tenant office buildings or residential towers. Using a software like piLOBI, your building can now reap all the aforementioned benefits of a VMS, and much more. All you need to do is determine exactly what features you require, and the rest is up to the VMS you choose.