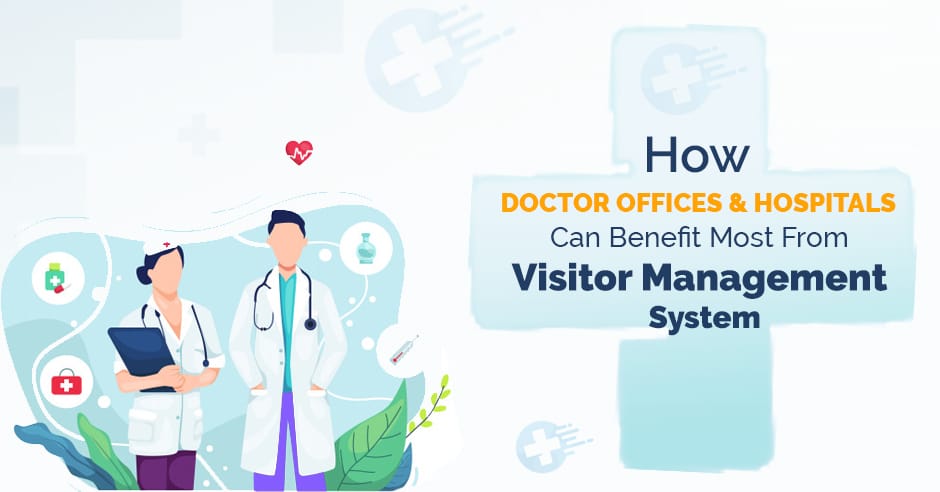 How Doctor Offices and Hospitals can Benefit Most from Visitor Management System
Visitor management has become increasingly significant in the present era. Effective visitor management system record and the comings and goings of visitors into a building, and documents their usage of a particular service. Instead of recording and monitoring visitors into a building manually, implementing visitor management software can increasingly reduce human efforts. 
Service sector areas like health care can benefit tremendously from visitor management systems. Hospitals, medical colleges, doctor offices, and clinics have always been a hub of people who move in and out of their premises constantly. The cloud-based software can help the administration monitor the movement of visitors in and out of their sites from a remote location, thus helping healthcare employees focus on other important tasks. 
Benefits of using the Visitor Management Systems in Doctor Offices and Hospitals
Apart from doctors, there are nurses, patients, visitors, administrative officers, and menial workers who are constantly present in a healthcare facility. In order to ensure maximum security and operational efficiency, implementing visitor management software like piLOBI is a must.
Here are a few benefits of using visitor management tools in doctor offices and hospitals: 
Enhances Security
Security is of great concern for hospitals and doctor offices. Apart from the obvious value of human life in a healthcare facility, there are complicated and expensive machines, gadgets, and facilities that are at continuous risks as well. As such, maintaining an integrated and digital record of visitors has become imperative to the safety of hospitals. Visitor management systems should thus be effectively installed at the various entry points in a hospital or doctor clinic. 
Upon entering a hospital premise, the visitors will need to submit various data such as phone number and email id and a photo. This will enable the software to record this data for future references, by creating a database of all these details of visitors. Visitor data from multiple remote locations are easily accessible in a single dashboard. The next time the same visitor enters the hospital premise, he/she/they are recognized by the software or in an instant. The visitors are also given badges that cannot be easily tampered with. The system also keeps an eye on the visitor and their whereabouts in the hospital. 
Increases Patient Satisfaction 
Patient satisfaction is crucial for any health care facility. With visitor management systems, patients know that they are cared for. They can also add their personal list of visitors, or qualify someone as an unwanted visitor. The visitors mentioned on the patients' lists are granted automatic access to the hospital, making the patients feel important and valuable. Moreover, the officials in the hospital get to focus on actually treating and helping the patients, instead of wasting time in manually collecting visitor information. 
Enhances work efficiency 
Traditional methods of visitor management are extremely time-consuming and have a huge room for error. With visitor management software, all these issues are addressed and solved efficiently. For instance, patients or visitors can quickly enter their data in a matter of seconds, and it gets stored on the database forever. Platforms like piLOBI allow automated sign-ins and outs to visitors in hospitals. With the digital cloud storage system, there is the least possibility of any data getting misplaced or lost, unlike traditionally used paper documents. The hospital employees can thus focus on other important tasks at hand, than on collecting visitor information. 
Prompt Notifications and Emergency Response 
The visitor management systems are extremely useful in case of unprecedented emergencies. For instance, in case of any emergency, using the software, visitors and patients can be instantly located and evacuated in a matter of minutes. Moreover, the software also issues alerts and notifications on the visitors' phones. For instance, visitors get to know about the availability of any health official on the premises. 
Improves the hospital's image in the public eye
The organizational and administrative operations in a hospital hold extreme significance. With a well-implemented visitor management software, these operations run smoothly. As soon as they enter through a digital-management system at the entrance of the hospital, they realize that their security is a priority to the hospital. It builds the hospital's credibility manifold. Because the processes are streamlined and automated, it saves both the visitors' and the administration's valuable time. 
Conclusion
Hospitals and doctor offices have a lot to benefit from implementing visitor management systems on their premises. With platforms like piLOBI, health facilities can boost their visitor management techniques with enhanced security measures, staff management, and efficiency as well as increased patient satisfaction.