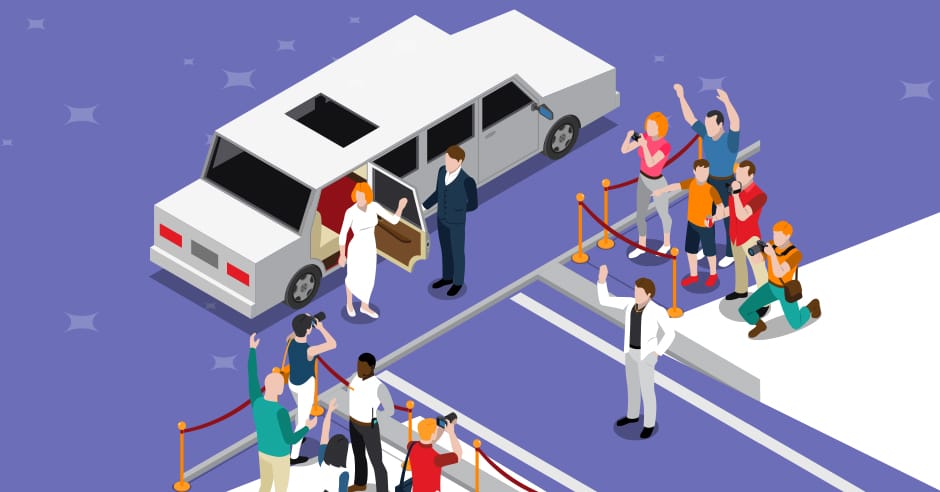 How to Manage VIPs with Visitor Management Solutions
Around 7000 BC, cave dwellers of the Patagonia region, in modern Argentina's Santa Cruz province, left their hand-prints on the walls of the Cueva de las Manos caves. Research by experts in archaeology indicates that these hand-prints represent the most ancient form of visitors' sheet, which were used to let people know – "I visited this place". 
Since then, people have traveled the long journey of evolution, and on their way, they created things as and when the need arose. The same is the case with the visitors' sheet. After the invention of paper, people moved on from hand-prints to paper-made visitor books, so that guests can acknowledge their visit to an office, a hotel, a school, or a hospital. 
With the advent of computers and the Internet, visitors' books slowly started becoming things of the past, transforming from the paper book format to a more advanced, digital form.
These days, software-based products like visitor management system, meeting management system, and visitor registration system is increasingly replacing physical logbooks, and automating manual processes, enabling organizations to streamline their workflows, increase efficiency, and meet today's growing security challenges. 
Modern-day visitor management solutions not only help businesses keep a track of their visitors, but these solutions also automate time-consuming front desk operations, such as noting visitor entries, fixing meetings, or writing name tags.
The automation of mundane, repetitive tasks, frees the time of front desk officials to take care of other important activities like :
connecting and interacting with VIP visitors,

for instance,

priority customers,

high-value job candidates,

corporate leaders, or

potential business partners. 
People-to-people contact is no doubt crucial, but nowadays, leading companies make use of a comprehensive visitor management system to extend a warm welcome to their VIP visitors. A secure, versatile, seamless, and smart visitor management system, like piLOBI's automated digital reception, will not only enhance the experience of your VIP guests, but it will also promote the concept of a digital workplace, making your company look more professional. 
Here is how you can use piLOBI visitor management solutions to roll out the red carpet for your VIP visitors:
Get Real-Time Notifications About Your Visitors:
The all-in-one

visitor management system

automatically notifies hosts about their visitors by email and SMS. The system informs hosts regarding visitor arrivals, and it also provides other relevant data, such as accommodation information and the pick-up points of guests.
Use the Pre-Registration Feature for Streamlining Visitor Management Processes:
Taking advantage of the visitor registration system, you can schedule pre-registrations, which will make it easier for your VIP guests to sign-in using a QR code. The meeting management system promptly alerts you about all details related to venues and meetings, via SMS and email. 
Automatic Facial Captures:
A key component of piLOBI's visitor management solutions is automatic facial captures. The best-in-class guest sign-in software captures images of all visitors entering your premises, heightening your facility's security. The software stores the facial captures, and it also allows the retrieval of the images, in case you require them in the future. 
Seamlessly Issue Visitor Badges:
The smart

visitor management software

allows seamless printing of visitor badges, which can incorporate the full credentials of your visitors. This enables your company employees to identify VIP visitors easily. 
Centralized Management of Multi-Location Info:
Take visitor management to the next level with innovative visitor management solutions! Enable centralized management of multi-location visitor information under a single account. Streamline processes and get instant access to info from anywhere. 
Live Dashboard Facility:
The live dashboard of the visitor registration system supplies information about new visitors and also pre-registered visitors. Hosts can see a graphical representation of visitors and their schedule on desktop platforms as well as mobile devices. 
Top-of-the-Line Sign-in Features to Reduce Your Costs:
Be a lean and mean fighting machine by cutting down on your front office operational costs with end to end visitor management system automation. Improve efficiency and win the hearts of your VIP visitors. 
Complete Peace of Mind With Smart Security
Integrating advanced features, such as digital signature storage, approval-based entry, and facial capture, your piLOBI visitor registration system ensures optimized visitor management with state-of-the-art smart security solutions, at business facilities and events. 
Conclusion
In an ever-changing business environment, being able to manage high-profile VIP contacts effectively, is a challenging task that demands a lot of time, energy, and attention.
On the one hand, there is the possibility of human errors that can ruin your relationship with a VIP visitor, and on the other hand, you can apply piLOBI visitor management solutions to automate efficiency and augment visitor experiences. If security and flexibility are what you are looking for, piLOBI is well-equipped to offer you a tailor-made visitor management system to meet your varied mission-critical needs. Contact piLOBI today.