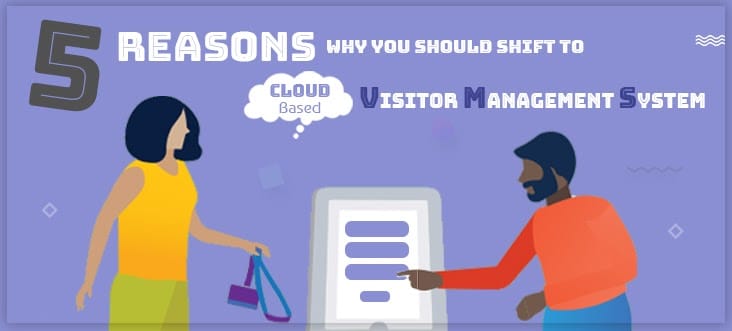 5 Reasons Why You Should Shift to Cloud-Based Visitor Management System
Is your organisation or business still using a legally IT system or paper-based methods for signing-in visitors? In case the reply is yes, it is time for you to consider updating your visitor management system into a cloud-based visitor management system. This system runs with the help of the Internet and stores as well as saves data on the Internet. Eric Griffith, an editor at PCMag says, "Cloud computing means storing and accessing data and programs over the Internet instead of your computer's hard drive."
This type of system offers a vast range of advantages that your business cannot afford to ignore. Incorporating visitor management software eliminates various concerns that surround segments like accuracy, inefficiencies, outdated technologies, excess costs, privacy, and security. In this article, we will provide you with five reasons why you should shift to a cloud-based visitor management system.
You Can Access Free Trials:
There are various visitor management software offers you free trials so that you can check whether the application is working for you. The trails normally last for fourteen days, which is an ample amount of time for you to check all the features and functions of the software. During this period, you can easily learn about the working of sign-in flow, check what type of customization works the best for you, and similar other stuff. This way you would also be able to create a benchmark of your requirements that would help you to compare between different software and select the best one that fulfils your needs.
Data is Never lost:
The best thing about incorporating cloud-based visitor management system in your business is that you will never lose even a tiny bit of your data throughout your lifetime. As everything is saved on the cloud, upper management and front-desk staff can easily log-in to the cloud system and access the data that has been saved. If you use a paper logbook, you depend on a single original copy but in a cloud-based system, this is not the case. Through this system, you can easily access visitor data irrespective of the device type that include mobile phones, tablets, laptops, and desktop computers. In some systems, your visitors can even anonymize their data. At regular intervals and depending on your company's policy, you can even bulk anonymize the data.
It is More Cost-Effective:
Compared to an on-site solution, using a cloud-based visitor management software is significantly cheaper. You would be able to avoid the minimum costs as you do not have to install additional antivirus programs, storage, and servers. Through digital reception feature, you can save some extra money. You do not need to keep a receptionist to take down the information of the visitors. You also do not need to create some extra space for housing these local servers. Moreover, you do not need to invest in additional software support, hardware maintenance plans, or even worry about future hardware or software upgrades. If you use a cloud-based system, you will only have to consider one variable cost throughout its lifetime and that cost increases only when you scale.
Cloud is Always Updated:
The software providers regularly update their software for ensuring that their products continue to serve, improve, and meet all of your business requirements. This helps the software to identify any potential vulnerability and fix them. These updates include a vast range of features. For instance, it can be a new home-screen layout or the software provider might also make sign-in and the sign-out process more straightforward.
You have the option to provide the software company with your feedback which they refer to while implementing new features. Hence, you would be able to use a software that is entirely customer-centric. Moreover, the best thing about these software is that they get updated automatically if they are connected to a WiFi source. However, they also provide you with the option of a manual update.
The Data is Secured:
The worst nightmare of any business is to lose its data. Cybercrimes such as data theft accounts for losses of more than trillions of dollars in a year. However, you do not have to worry about these things if you use cloud-based visitor management system. They are a hundred times more secure compared to the existing legacy systems. The software is always updated with the latest upgrades and security patches. The system is further monitored by the software provider regularly to bypass any potential vulnerabilities or security issues. In addition to top-notch security, your IT department would be able to enjoy less strenuous work. This in return would help your employee to invest their time and efforts behind more pressing matters such as advertising and finances.
Thus, it can be easily concluded that using a cloud-based visitor management system would not only make your everyday business process easy, but you would also provide you with various other benefits like data security, more time, and likewise.