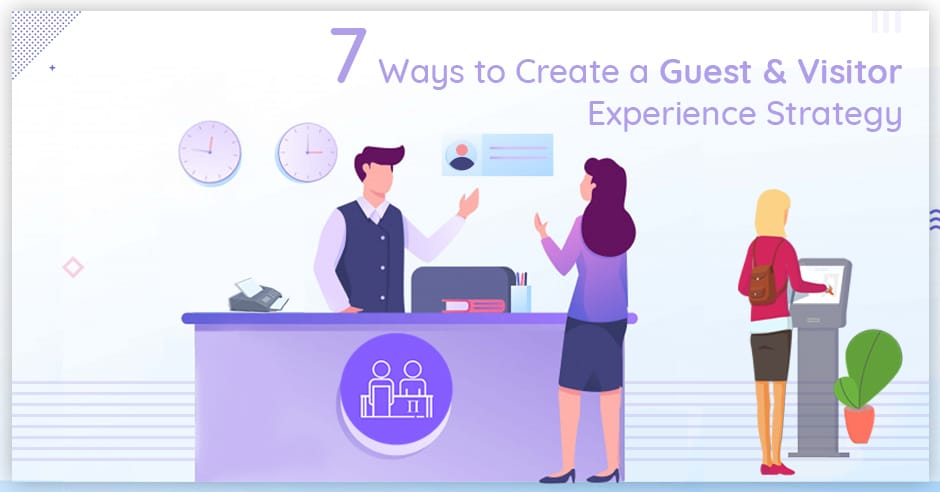 7 Ways to Create a Guest and Visitor Experience Strategy
A fine visitor experience is a worthy milestone to achieve. It forms the bedrock of a good business. A satisfied customer can be easily turned into a return customer and thus a proper strategy to execute this idea should always be in place.  
Forming a good guest experience strategy means focusing on the basic elements of what makes a good experience. And once identified, implementing it via a robust visitor management system reinforces the idea even more. 
Let's explore the 7 critical ways to create a good guest experience strategy. 
Easy Sign Ins
One of the earliest points of interaction with your guests will be at your reception where he/she signs in. Traditional methods dictate that the visitor signs in using their ID and then they are verified for access. This is a tedious and cumbersome approach and is usually riddled with human errors. 
Make the process easier with a visitor management system thus taking away from the complexity. All the visitor has to do is input their details using a valid ID card or badge and the system does the rest automatically. 
Appreciate Regular Customers 
A returning customer is the best performing link in any business. That person deserves special treatment. And the easiest way to do that is to give them easy access to the institution without the hassle of sign ins and verifications. 
The smart visitor management software automatically recognizes your guest and bypasses the entire verification process. They can re-use the ID from before and scan the QR code to get access. This helps them feel special and distinguished and deservedly so. 
Ease the Feedback Mechanism
Feedbacks are the most important part of growth in a business. But right now, most businesses make it difficult for customers to give feedbacks cause dealing with them is a hassle. Change that mentality and listen to what your customer has to say about your establishment. 
A good visitor management system allows your customer to easily record his/her feedback through the dashboard thus bypassing all middlemen. You directly get to know what your customer thinks about you which brings us to the next step. 
Feedback Compliance
Previously all feedbacks used to go through a hierarchy of management thus getting tampered and almost never reaching where it should on time. This can be easily fixed by a robust feedback mechanism. 
The smart and intuitive visitor management software gives you real-time updates about any complaints or grievances updated on the system. This means that the executing authority gets all the information directly and can work on fixing them right from the get-go. A swift and thorough solution to a grievance always shows the customer that you care about them thus elevating the visitor's experience.
Staff Management
Efficient handling of staff depends on your access to data. If you know where to direct your staff and which parts of the entire workforce need better management then you can concentrate on that thus seeing results in real-time. 
A good visitor management system provides you with all the information you need through the dashboard. It displays all the relevant metrics in a detailed yet easy to understand graphical way. This helps you guide the strategy for the day and provide the best experience to your guests. 
Efficient use of Staff
Directing your staff to address the needs of your client is the most efficient possible manner is key to providing a good guest experience. This is not possible if your staff is engaged in mundane and arbitrary tasks like record keeping, feedback recording and so on. 
Direct your staff towards the execution of such grievances by handing over these repetitive tasks to a qualified visitor management software.It keeps you on track and serves you with all the data your staff needs to perform at full capacity. 
Guest Testimonials
The best way to give a good experience to your visitors is to have your previous clients talk highly about you. Nothing works better than a satisfied customer who appreciates your work. Having a good system in place that can listen to your client's problems and find solutions for it is what differentiates an OK business from a great one.   
Conclusion
piLOBI's efficient visitor management software lets you use technology to run your business smoothly. Listen to your customers and serve their needs with efficient use of manpower and let your visitor experience strategy propel you to the heights you deserve.